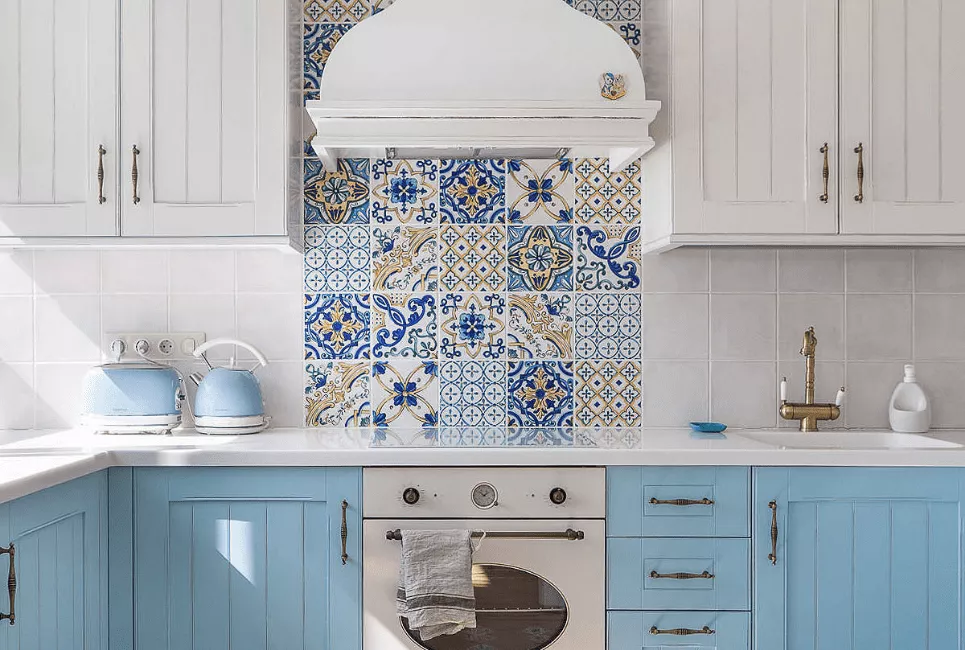 10 Charming Farmhouse Kitchen Backsplash Ideas for a Rustic Appeal
There's something undeniably charming about a farmhouse kitchen. Combining rustic elements with cozy and functional design, these spaces truly feel like the heart of the home. One key feature of this style is the farmhouse kitchen backsplash, which not only protects your walls from splatters but also adds personality to the room. In a farmhouse kitchen, backsplashes such as classic subway tiles, shiplap, and brick create a perfect rustic touch. Ready to bring this warmth and character to your space? Let's dive into 10 enchanting farmhouse kitchen backsplash ideas.
Farmhouse Kitchen Colors and Accents
Farmhouse kitchen colors typically include neutral shades like white, gray, and beige, with pops of color like soft blues, greens, or yellows for accents. These soothing tones create a warm, welcoming atmosphere and serve as a backdrop for your chosen backsplash.
1. Classic Subway Tiles: Timeless Elegance
You can't go wrong with classic white subway tiles. They're the most popular kitchen backsplash for a reason: their clean lines and timeless appeal pair well with any design, including farmhouse kitchens. Choose a matte finish and lay them in a herringbone or offset pattern for a twist on tradition.
2. Shiplap for a Cozy Touch
Shiplap is a staple in farmhouse style, and it makes a beautiful backsplash too. It creates a cozy, inviting atmosphere, perfect for kitchens that serve as family gathering spaces. Opt for white or light gray to keep the color palette modern and fresh.
3. Rustic Brick
Embrace the rustic charm and warmth of a brick backsplash in your farmhouse kitchen. Brick's natural texture and rugged appearance create a cozy atmosphere. This is perfect for family gatherings and memorable meals.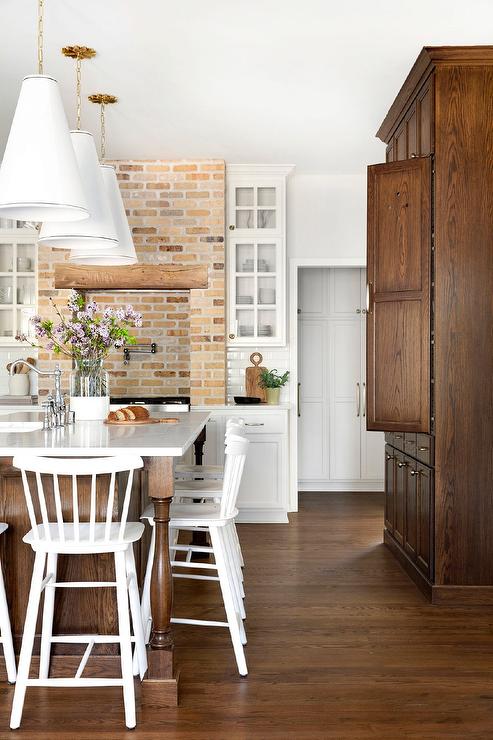 Classic Red Brick: Timeless Warmth
Choose red brick for a classic, timeless look. It adds story and personality to your kitchen, matching well with farmhouse elements like wood. The warm colors of red brick create a welcoming and cozy feel in your space.
White Brick: Bright and Airy
If you prefer a lighter, more modern look, consider white brick. This option maintains the rustic charm of brick while adding a fresh, airy feel to your kitchen. White brick can brighten up your space and make it appear larger, which is particularly beneficial in smaller kitchens or those with limited natural light.
Brick Veneer or Brick-Look Tiles: Convenience and Versatility
For a more accessible and versatile option, explore brick veneer or brick-look tiles. These alternatives mimic the appearance of real brick while offering easier installation and maintenance. They come in a variety of colors and finishes, allowing you to achieve the perfect look for your farmhouse kitchen.
4. Reclaimed Wood: Sustainability Meets Style
Reclaimed wood is a fantastic choice for a farmhouse kitchen backsplash. Not only does it add character and depth, but it's also eco-friendly. Look for salvaged barn wood or wooden pallets and create a custom design that tells a story.
5. Patterned Cement Tiles: A Dash of Personality
For a farmhouse kitchen with a touch of whimsy, consider patterned cement tiles. These eye-catching backsplash options come in a variety of colors and designs, allowing you to express your unique style. Stick to traditional farmhouse colors like white, gray, and blue to maintain harmony.
6. Beadboard: Cottage Charm
Beadboard is another classic farmhouse material that can be used as a kitchen backsplash. This versatile option adds texture and dimension to your space while maintaining a light, airy feel. Paint it white or a soft gray for a modern farmhouse aesthetic.
7. Tin: Vintage Vibes
Give your farmhouse kitchen backsplash a vintage twist with tin tiles. These metal accents come in various patterns and finishes, offering a unique look that's both rustic and chic. Choose a distressed or antique finish to enhance the farmhouse feel.
8. Hexagonal Tiles: Geometry Meets Farmhouse
Add some geometric interest to your farmhouse kitchen with hexagonal tiles. This unexpected shape adds a modern twist to the traditional aesthetic. Stick to neutral colors like white, gray, or beige for a cohesive look.
9. Natural Stone: Earthy Elegance
Natural stone offers a luxurious and sophisticated option for your farmhouse kitchen backsplash, with marble and travertine being two popular choices. Both materials boast unique characteristics that lend an earthy elegance to your space, effortlessly complementing wooden cabinetry and open shelves.
Marble: Luxurious and Timeless
Marble is a classic choice for a kitchen backsplash, known for its timeless beauty and luxurious feel. Its unique veining patterns create a sense of movement and depth, while its cool-toned hues perfectly align with the soothing color palette often found in farmhouse kitchens. Although marble can be on the pricier side, it brings an unmatched level of sophistication to your space. To maintain the farmhouse aesthetic, opt for a tumbled or honed finish that offers a more rustic, less polished appearance.
Travertine: Warm and Textured
Travertine, on the other hand, is a natural stone with a more warm and earthy vibe. Its porous surface and subtle color variations lend texture and character to your kitchen backsplash. Travertine comes in a range of tones, from ivory and beige to golden brown, making it easy to find the perfect shade to complement your farmhouse decor. Choose a filled and honed finish for a smooth, matte surface, or go for a tumbled finish that showcases the stone's natural pits and texture for a more rustic look.
10. Chalkboard Paint: Functional and Fun
Chalkboard paint offers a unique and versatile solution for a farmhouse kitchen backsplash, combining both style and functionality. This innovative paint transforms any surface into a writable and erasable chalkboard, making it perfect for various uses in your kitchen while adding a touch of rustic charm.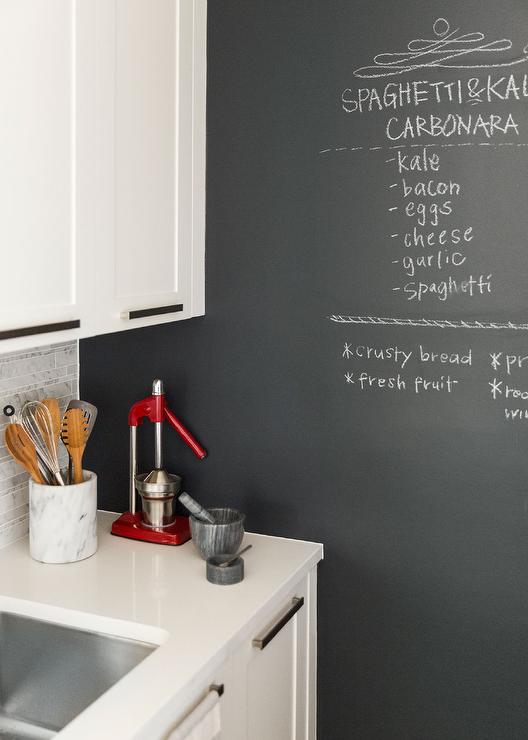 Organize Your Kitchen
One of the most practical uses of chalkboard paint in your kitchen is organization. Write down meal plans, shopping lists, or daily reminders to help keep you on track. You can also label storage containers, shelves, or drawers to ensure everything has a designated place.
A Creative Outlet
A chalkboard backsplash provides an opportunity for you and your family to express your creativity. Use it as a canvas for artwork, or leave inspiring quotes and messages for your loved ones to enjoy. If you have kids, a chalkboard backsplash can serve as an engaging and interactive space for them to draw and learn.
Recipe Display
Another great use for a chalkboard backsplash is displaying your favorite recipes. Jot down the ingredients and steps for easy reference while you cook, or share your favorite family recipes with guests as a conversation starter.
Teaching and Learning
If you enjoy teaching or learning in the kitchen, a chalkboard backsplash can be a valuable tool. Use it to teach children about measurements, cooking techniques, or even nutrition, making the kitchen a fun and educational environment.
Easy Updates and Customization
Chalkboard paint allows for easy customization, as you can quickly erase and update your drawings or writings whenever you'd like. This flexibility means your kitchen backsplash can evolve with your tastes, style, and needs.
Frequently Asked Questions About Farmhouse Kitchen Backsplash
How do I choose the right backsplash for my farmhouse kitchen?
Consider the overall style and color scheme of your kitchen when choosing a backsplash. Farmhouse kitchens typically feature natural materials, rustic elements, and neutral colors. Opt for backsplash options like subway tiles, shiplap, brick, or reclaimed wood to complement this aesthetic.
Can I use non-traditional materials for a farmhouse kitchen backsplash?
Absolutely! While traditional materials like wood, brick, and tile are popular choices, you can also explore alternative options like tin, cement tiles, or even chalkboard paint. These unique materials can add personality and character to your farmhouse kitchen.
What are some easy-to-install farmhouse kitchen backsplash ideas?
Some easy-to-install backsplash options for farmhouse kitchens include peel-and-stick tiles, beadboard panels, and shiplap. These materials can be quickly and easily installed, making them an ideal choice for DIY projects or quick kitchen updates.
Create Your Dream Farmhouse Kitchen Backsplash
With these farmhouse kitchen backsplash ideas, you can transform your space into a cozy, charming haven. From classic subway tiles to unexpected materials like reclaimed wood or tin, there's a backsplash option to suit every style. Embrace the soothing colors and rustic elements that make farmhouse kitchens so inviting, and enjoy a space that feels like home.