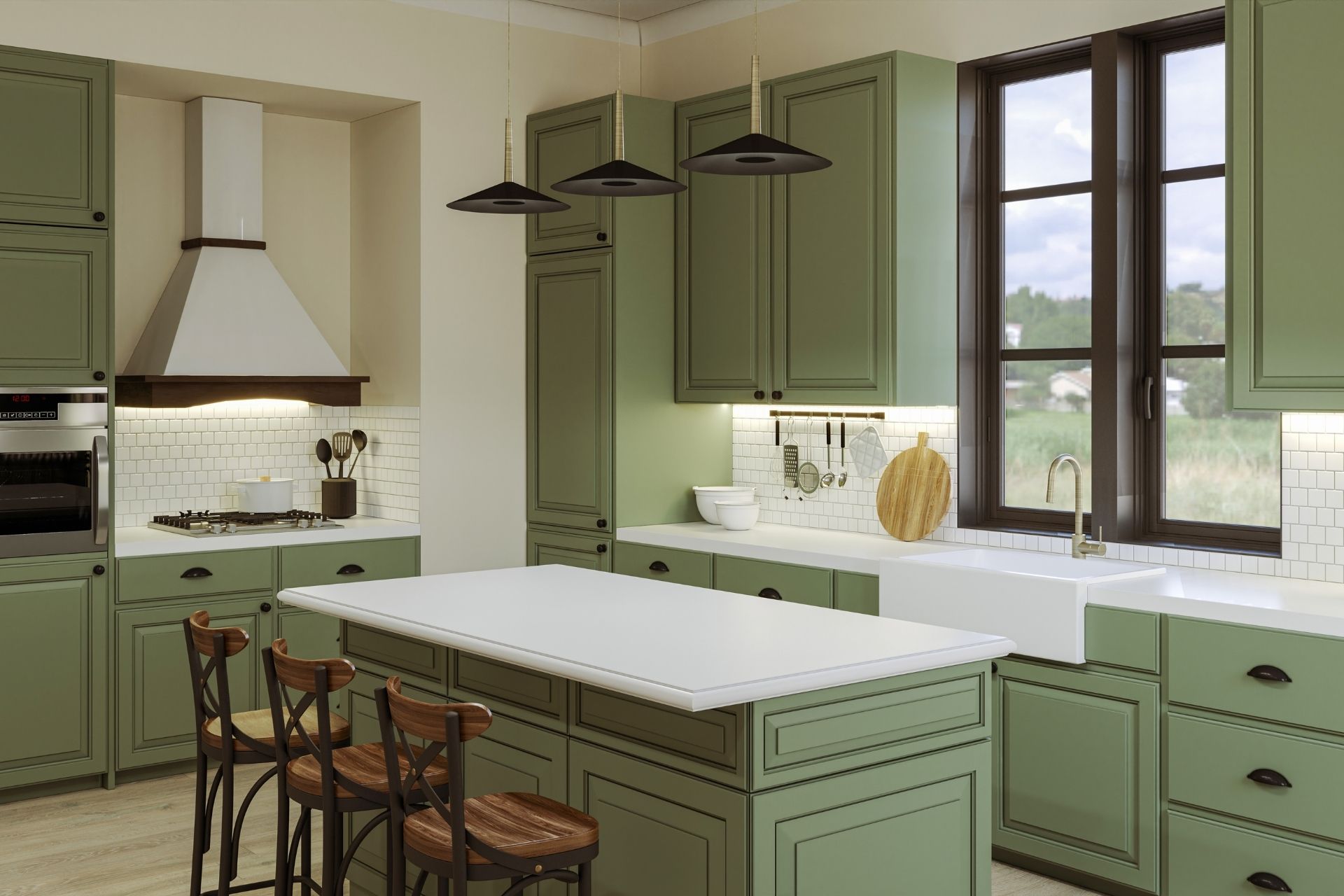 Traditional Kitchen Design Ideas
Traditional Kitchen Design Ideas
A traditional kitchen will require a lot of details. There are a few ways to update the look of a traditional kitchen. One way is to replace traditional appliances with more modern ones. Another way is to use a glass-front cabinet instead of the usual wooden ones. Choose cabinet pulls that are in keeping with the overall theme of the space. Don't forget to check out our traditional kitchen remodeling Burke guide with Build Design Center.
Modern take on traditional kitchen design
A modern take on traditional kitchen design makes use of clean lines and minimalist design elements. This style emphasizes efficiency, sustainability, and simplicity. This style often makes use of glass, plastic, stainless steel, and white cabinetry. Modern kitchens generally have a single striking color, and they are often equipped with advanced smart technology.
Modern take on traditional kitchen design uses glass-front cabinets, which are versatile and are often used in transitional and farmhouse kitchens. While simple, flat glass panes work well with contemporary kitchens, those with architectural details may choose textured or frosted glass panes. Unlike modern designs, traditional kitchens are characterized by their use of natural materials, such as stone or wood. They often have custom range hoods and countertops.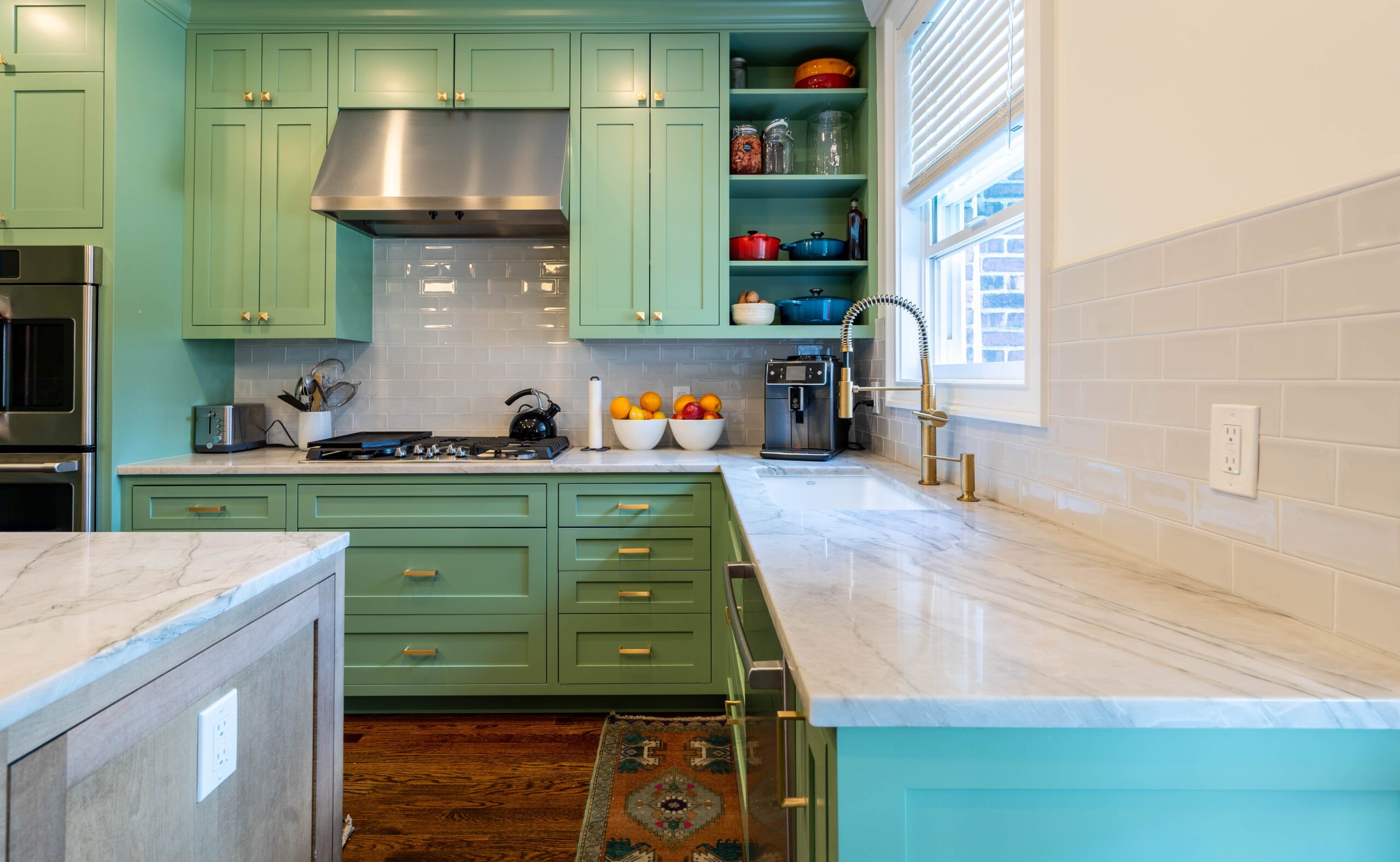 The traditional kitchen style is often characterized by older architectural features. This style may be American or European in design. If it is tied to a particular place or era, it is called a Period Kitchen. These types of kitchens are characterized by details, such as molding and coving.
Traditional kitchen design often has many details, including detailed cabinetry and edges. In the photo, the cabinets have a matte white finish, while others are duco varnished in aged walnut. The contrasting color makes the kitchen appear more spacious and elegant. While the kitchen is smaller than the home shown in this photo, the open layout makes it appear much larger than its actual size. A large kitchen island is also prominently featured, and provides space for three ladder-back mahogany stools.
The kitchen design of this modern home was inspired by traditional kitchen design styles. Its design features a wide range of materials, including solid American walnut cabinets and marble countertops. The kitchen's backsplash features a large white ceramic tile backsplash. In addition, the kitchen is furnished with a modern pendant lamp. The kitchen has plenty of natural light to brighten the room.
Glass-front cabinets
Glass-front cabinets can be a great addition to a traditional kitchen. They will add a touch of airy panache to a kitchen, and will reflect light, making the room feel lighter. Adding mirrors or lights to the inside of the cabinets will enhance the effect.
The glass in these cabinets can be either clear or frosted. Clear glass will show more of the contents, which is great if you want to display beautiful decorative items. However, it can make the clutter in your kitchen more obvious. A good alternative to clear glass is reeded glass, which offers the benefits of glass while camouflaging dirty dishes and mix-and-match kitchenware.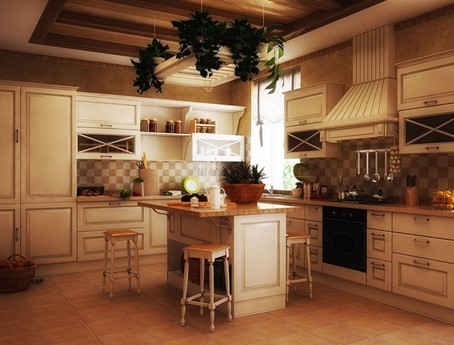 Glass-front cabinets also offer an additional benefit: they are easy to clean. A simple glass cleaner can be used to remove grease and grime. The glass also allows you to add a touch of high-end style by incorporating beadboard and shiplap on the inside of the cabinets.
Glass front cabinets can work well with many kitchen design styles. They can be used in combination with solid cabinetry for drama or to display decorative dishware. They are also a great way to open up a room and let natural light in. The added benefit of glass cabinets is that they can help prevent dust from building up.
A kitchen that has a good balance of open and closed spaces is an effective way to maximize space. A combination of glass front cabinets and smart lighting can create a spacious look in a small kitchen. You can even choose to paint the walls a neutral color, which will not overwhelm the room's limited space.
Dining table with similar proportions
Dining tables come in various shapes and sizes. The most common shapes are square, rectangular and oval. The size of the dining table should be proportional to the size of the space. A round table is ideal for a small space because it can fit more chairs. Also, a round table has less risk of bumping into neighbors when it is in use.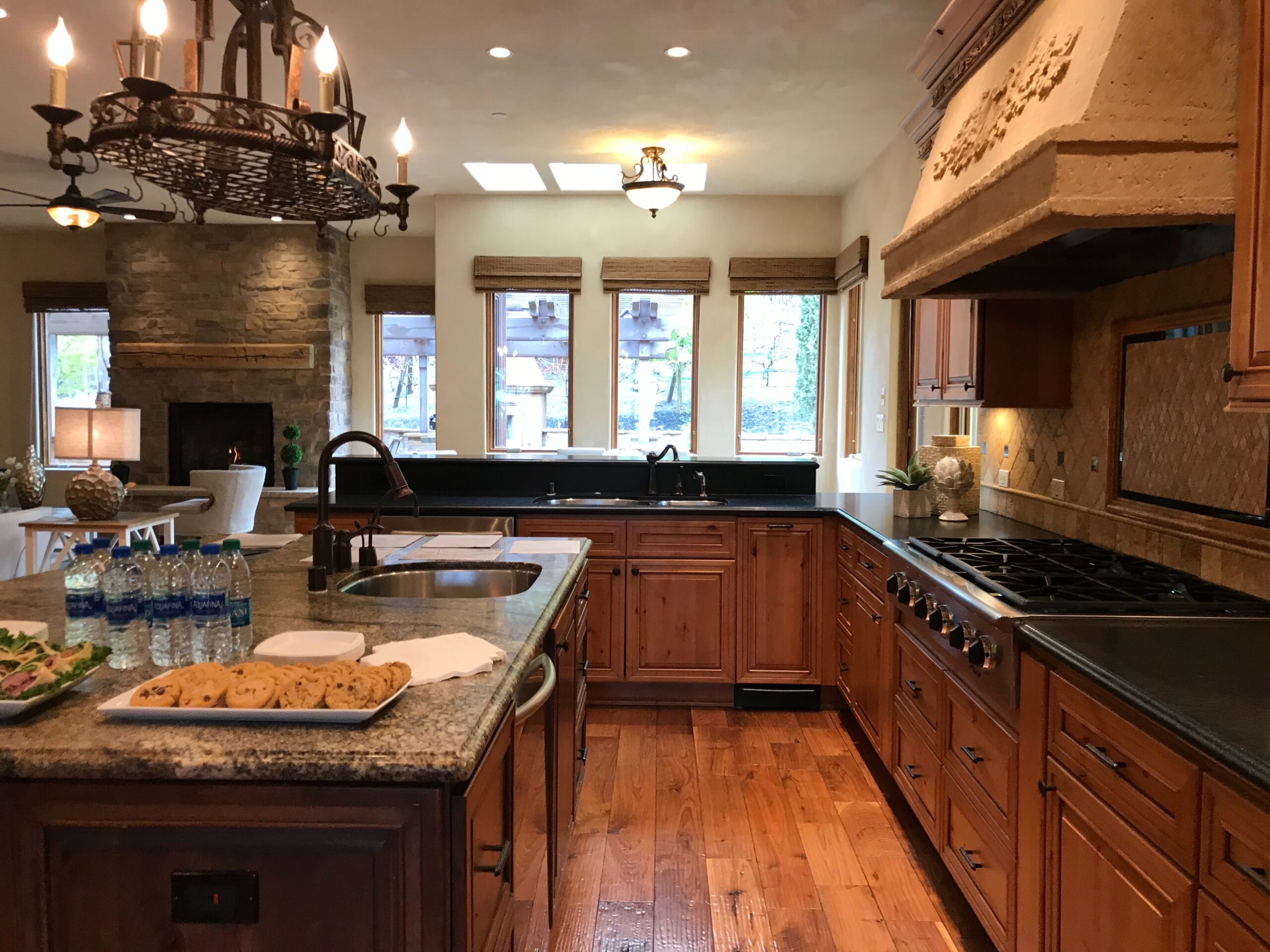 To match the table with the chairs, choose a dining chair with similar proportions. Armchairs offer additional height and should be at least seven inches wide. You'll also want to consider the apron, or skirt, of the table. This is to conceal the mechanical pieces underneath the table.
The size of a rectangular table depends on the number of people who will be seated. A four-person table should be around 48 inches in diameter, while a table for six people should be about 60 inches in length. A table for eight people should be at least 78 inches long.
Another option is to use a square table. This shape is most popular and matches most dimensions. It can accommodate four to six people and provides enough space for serving dishes in the center. A square table is also great for smaller spaces. Alternatively, two square tables can be joined together to make one large table. If you have more space, you could combine a square table with a sideboard or hutch.
Cabinet pulls that fit the style of the space
If you have a traditional kitchen design, you'll need cabinet pulls that fit the style. You can find traditional cabinet pulls that are square or round, and you can even find those that have jeweled centers. These styles can be very practical, but they can also add a decorative flair to your cabinets. You can also find pulls with gold-colored centers to give your cabinets a subtle color accent.
Before buying a new cabinet pull, make sure to determine the size of the hole in the drawer or cabinet. Larger drawers and doors often require large hardware. Smaller drawers and doors should have smaller pulls. Typically, the size of the knob or pull should be at least one-third the length of the drawer. Moreover, if your drawers are wider than 18 inches, you may need to buy two pulls instead of one.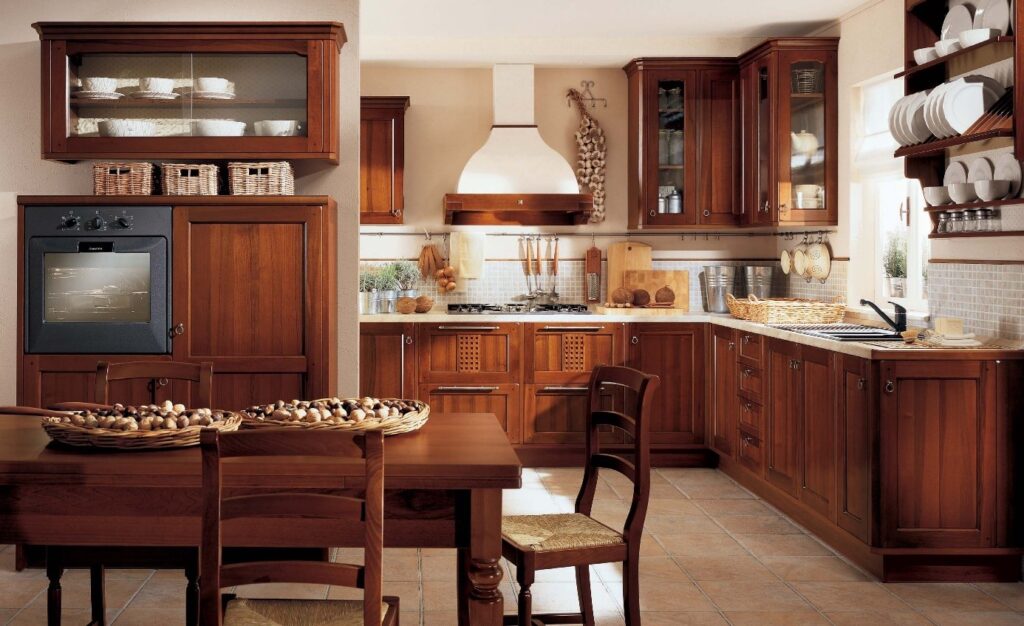 For a more elegant look, you can choose pulls that have a retro look. If your kitchen features softer lines, you can opt for a soft leather pull. In contrast, if your kitchen has more industrial elements, you can go for a sleek metal handle. You can also find pulls that are made of stainless steel.
You can also find cabinet pulls with a traditional look by choosing two-toned handles. This is because two-toned hardware complements different decor styles. Moreover, oversized hardware works wonders for larger kitchens. Because these pulls are bigger in size, they will not overwhelm the space.
If you have an eclectic kitchen design, you can try contrasting hardware to add a pop of color. Brass pulls, for example, work well with brushed-silver cabinets and stainless steel appliances.
Tile backsplash
Tile backsplashes are one of the most traditional kitchen design ideas. The typical backsplash is made up of squares or rectangular tiles that cover the space between countertops and upper cabinets. However, many contemporary kitchens now feature open shelves instead of upper cabinets. In such cases, some designers are getting creative by using "tile envelopes" or wallpaper as the backsplash material.
Subway tile is a classic choice, but you can experiment with brighter colors and shapes to give your backsplash a more contemporary look. You can also opt for glass-fronted tiles. While white subway tiles are a classic choice, choosing a more contemporary color scheme is a great way to add interest to your kitchen design.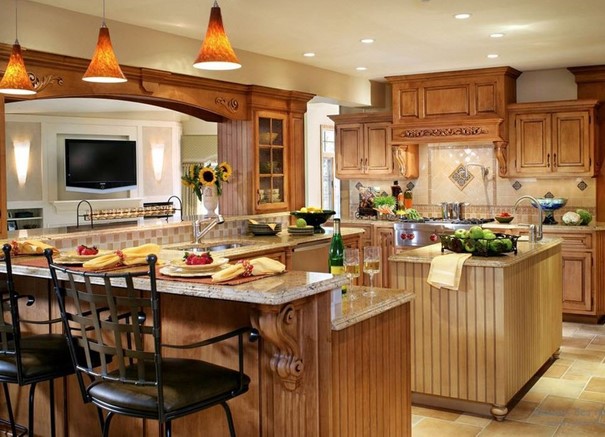 If you have a traditional kitchen with wood cabinets, a tile backsplash with a bold color or pattern can make a dramatic impact. For example, a backsplash made of decorative stone tiles with warm gray and white hues would be a striking backdrop. In addition, round penny tiles give a vintage look and pair well with a kitchen with cream-colored cabinets. You can even pair a contrasting grout color to give your backsplash a pop.
You can also use a backsplash that's shorter than the walls. In this way, you can update the look of your kitchen on a budget. In fact, a short backsplash can fit perfectly alongside architectural details such as the ceiling. Just make sure you know what you're doing before installing a tile backsplash.
If you're looking for a colorful backsplash, you can also opt for an opalescent one to add to the neutral color scheme. It will be the perfect backdrop for your gourmet oven. Copper and bronze metal tones also add a classic look to this design.