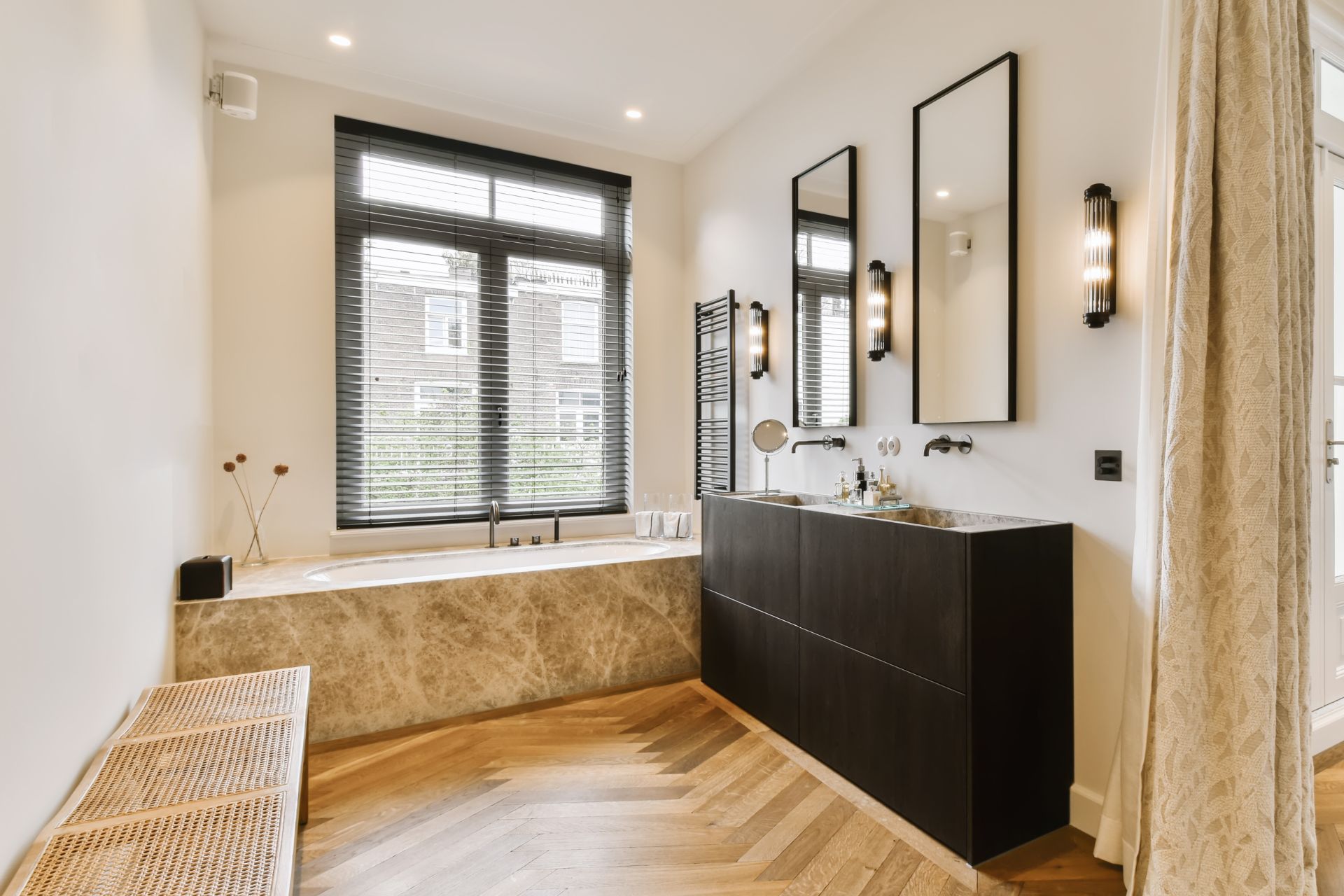 Black Bathroom Vanity: A Modern Statement in Bathroom Design
A black bathroom vanity is more than just a storage unit or a sink holder; it's a statement. For homeowners and interior designers alike, this choice can revolutionize the entire look and feel of a bathroom. In this article, we'll delve into the various facets of these vanities and why they've become such a sought-after commodity in contemporary home design.
Why Choose a Black Bathroom Vanity?
Aesthetically Pleasing: A black vanity with sink integrated is a sleek option that offers a touch of luxury and sophistication.

Timeless Elegance: The color black is evergreen. It's resistant to fleeting design trends, ensuring that your bathroom looks modern today and years down the line.

Versatility: Black pairs beautifully with nearly all color schemes, allowing easy room modifications without replacing the vanity.
Characteristics of a Modern Black Bathroom Vanity
Sleek Design: A modern black bathroom vanity usually sports clean lines and minimalist designs.

Integrated Tech: Some contemporary models may come with built-in USB ports or LED lighting.

Material Choice: Modern vanities often use a blend of natural materials like wood with industrial ones like metal or glass.
Popular Sizes and Their Benefits
One of the most popular sizes in the market is the black bathroom vanity 48-inch model. This size:
Fits comfortably in medium-sized bathrooms.

Offers ample storage space without consuming too much floor space.

Pairs well with both single and double sinks.
Styling Tips and Black Bathroom Vanity Ideas
Gold Accents: Enhance the black vanity with gold fixtures or choose a black bathroom vanity with gold hardware for an opulent touch.

Mirror Choice: Opt for an oversized circular mirror above the vanity for a modern touch.

Contrasting Walls: Light-colored or patterned tiles can contrast beautifully against the deep black of the vanity.
Color Combinations to Complement a Black Bathroom Vanity
A black bathroom vanity is versatile and serves as a strong foundation for various color palettes. Whether you want a sleek monochrome look or a vibrant contrast, the choices are aplenty. Here are some color combinations that beautifully complement a black vanity:
Black & White:
Description: Classic and timeless, this combination is the epitome of sophistication.

Example: White marble countertops on a black vanity with black-and-white patterned tiles.
Black & Gold:
Description: Luxurious and opulent, gold accents add warmth and glamour.

Example: A black bathroom vanity with gold hardware paired with gold light fixtures.
Black & Soft Pastels:
Description: Pastels like blush pink or mint green offer a gentle contrast, making the space feel serene.

Example: Black vanity against a pastel pink wall with rose gold fixtures.
Black & Deep Greens:
Description: Evoking a sense of nature, dark greens pair well with black to create a moody, forest-inspired ambiance.

Example: Deep green tiles or wall paint combined with a black vanity and brass fixtures.
Black & Wood Tones:
Description: Adding wood elements introduces warmth and an organic touch.

Example: Wooden shelving or wooden framed mirrors above a black vanity.
Black & Grays:
Description: Various shades of gray, from light dove gray to charcoal, can add depth and dimension.

Example: Light gray walls, black vanity, and mixed gray towels or accessories.
Black & Blues:
Description: From soft powder blue to deep navy, blues introduce calmness and depth.

Example: Navy blue walls with gold or silver accents alongside a black vanity.
Black & Terracotta:
Description: Terracotta shades bring warmth and an earthy feel, creating a cozy ambiance.

Example: Terracotta pots for plants or terracotta-colored towels and rugs paired with a black vanity.
Frequently Asked Questions about Black Bathroom Vanity
Is it hard to maintain a black bathroom vanity?
Black vanities can show water spots or fingerprints more quickly than lighter colors. Regular cleaning and wiping can easily manage this.
Can I pair a black vanity with a dark-colored bathroom?
Absolutely! It's all about balance. Introduce lighter elements or metallic fixtures to prevent the room from feeling too heavy.
Are black bathroom vanities more expensive?
The color doesn't generally affect the price. It's the material and features of the vanity that determine its cost.
Conclusion
Opting for a black bathroom vanity is a bold and versatile choice. Whether you lean toward a modern black bathroom vanity or a classic design, there are countless black bathroom vanity ideas to inspire your bathroom makeover. Embrace the allure of black and transform your bathroom into a luxurious retreat.