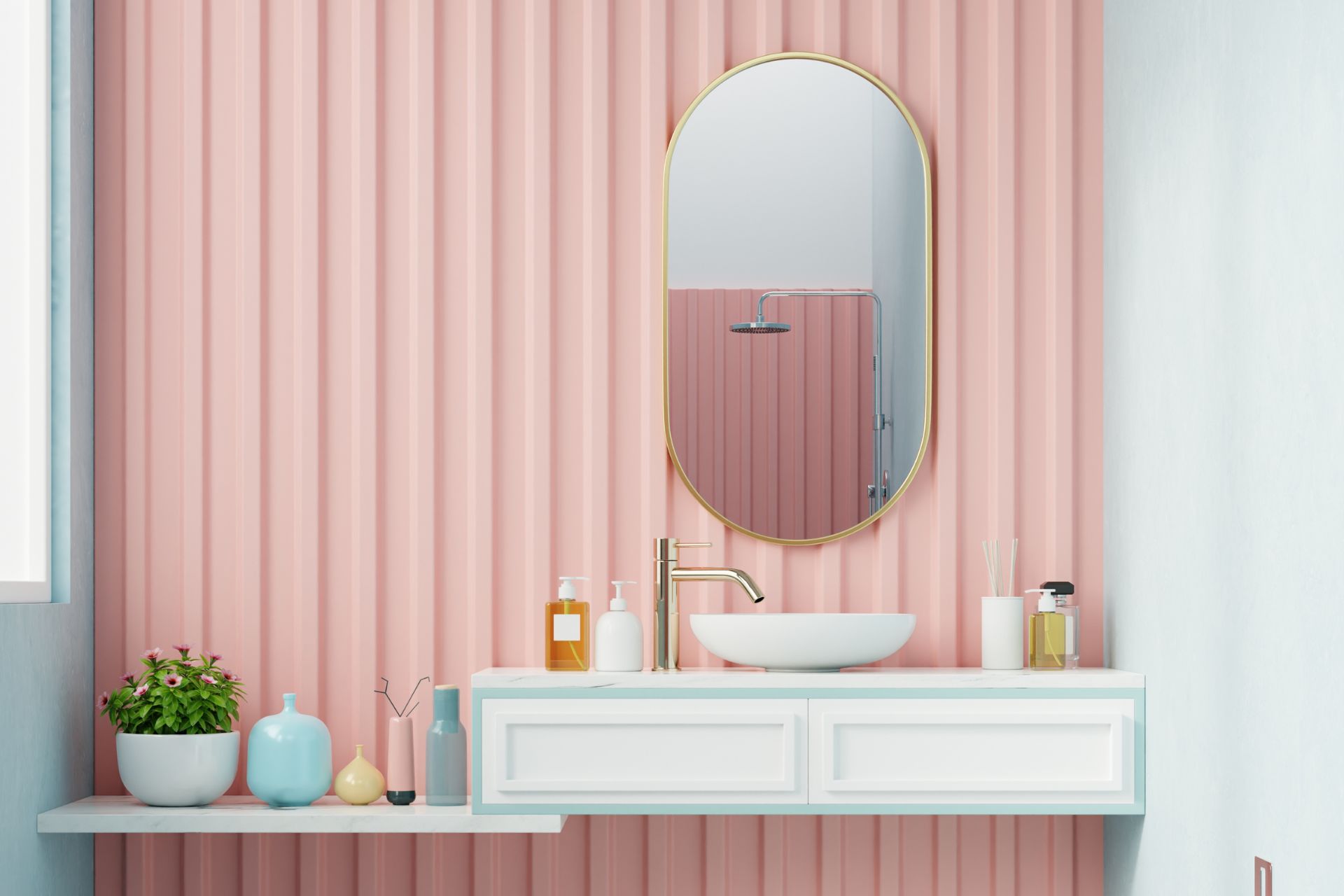 Bathroom Accent Wall: 14 Accent Tips
If you're looking to give your bathroom a stylish makeover that adds personality and flair, a bathroom accent wall is hard to beat. Accent walls can take center stage or act as a subtle means to enhance the overall aesthetic of a bathroom. And the best part is, accent walls are as customizable as they are versatile. They can fit right into any bathroom of any style. 
In this comprehensive guide, we'll explore everything you need to know about accent walls – from understanding the concept to installing one, as well as exploring design ideas to make your bathroom accent wall a thing of beauty. 
What is a Bathroom Accent Wall?
A bathroom accent wall is a decorative feature in a bathroom. It's a wall that is intentionally different from the rest of the bathroom, showcasing different colors, textures, and patterns. The purpose of an accent wall is to elevate the look of a bathroom by creating an interesting visual. It's also the perfect way for homeowners to inject their own personality and design flair into such a personal space. 
How to Install a Bathroom Accent Wall
Installing a bathroom accent wall can range from a simple DIY project to a more complex undertaking that may require professional assistance. Here are the basic steps to guide you:
Choose the wall you want to accentuate
Consider the layout of your bathroom and pick a wall that would naturally draw attention or benefit from an aesthetic upgrade.
Clean and prep the wall surface
Ensure the wall is clean, dry, and free of any debris or imperfections that may affect the final result.
Select your desired materials or finishes
Choose from a wide range of materials and finishes that complement your bathroom's overall design and personal taste.
Follow the installation instructions specific to your chosen materials
Each material may have different installation methods, so be sure to carefully read and follow the manufacturer's guidelines.
Admire your stunning new accent wall!
Take a step back and enjoy the visual impact of your bathroom's transformation.
Where to Place a Bathroom Accent Wall
Selecting the perfect spot for your accent wall is crucial for achieving the desired effect. Here are some popular placements to consider:
Behind the tub
This placement creates a focal point that draws attention to your bathtub and enhances the bathing experience.
A textured or colorful accent wall can give your shower a spa-like ambiance and make it feel more luxurious.
A stylish backdrop for your mirror and vanity can create a statement and elevate the aesthetics of your bathroom.
This placement immediately catches the eye as soon as you enter the bathroom, creating a visual impact that leaves a lasting impression.
Bathroom Accent Wall Ideas
Now, let's dive into a plethora of fantastic bathroom accent wall ideas to inspire your next remodeling project!
1. Ombre
If you want an accent wall that features various colors without it being too striking, an ombre accent wall is a good way to go. The ombre technique features a gradual color transition from light to dark. For example, you can go with an ombre wall featuring a turquoise blue that transitions to seafoam white. 
The ombre look works well in modern bathrooms and for those who want to add a sophisticated touch of color that's more subtle than, say, an accent wall with a solid color. 
2. Gray
A gray accent wall is the perfect choice to add sophistication to a bathroom. The color itself is not overpowering but is enough to break any monotony in an otherwise monotone bathroom. Gray also is the perfect color to make other colors come to life. For instance, the green of a potted plant, the wooden brown of cabinets, the blue of a bathroom rug, etc. all look more polished with a gray accent wall. 
3. Blue
A calming blue hue can evoke a serene, spa-like atmosphere in your bathroom. From soft powder blue to deep navy tones, there are endless shades to choose from, each offering a unique vibe and feel.
4. Yellow
Opting for yellow bathroom accents can inject some much-needed life and playfulness in an otherwise plain bathroom. Whether you go for a vibrant yellow, or a softer pastel shade, yellow, inherently brings joy to any space it's used in. 
A yellow bathroom accent wall works especially well in neutral-toned bathrooms that need a little facelift. Yellow also fits in with the playful eclectic style of bohemian bathrooms. 
5. Wallpaper
Wallpaper offers a vast array of patterns and textures, allowing you to create a truly unique accent wall. From bold geometric designs to delicate floral prints, the possibilities are endless. Consider selecting a wallpaper with moisture-resistant properties to ensure durability in a bathroom setting.
6. Mosaic Tiles
Mosaic tiles as a bathroom accent wall give you gorgeous and unique results. Consider it an art piece for your bathroom. Take time to explore different mosaic tiles and visualize how you want them all to piece together as a whole wall. You'll be pleasantly surprised at the results and how it reflects your personal style. 
7. Stone
A natural stone accent wall brings the beauty of nature indoors, adding texture and warmth to your bathroom. From rustic slate to elegant marble, there's a stone for every design aesthetic.
8. Glass Tiles
The luminous quality of glass tiles immediately elevates any bathroom and makes it feel more glamorous. Keep in mind the color, size, shape, and finish of glass tiles. You can choose a uniform set or a combination of tiles to create a stunning visual centerpiece. 
9. Exposed Brick
For an industrial-chic vibe, consider an exposed brick accent wall. This design choice adds character and depth to your bathroom, providing a unique contrast to other materials and finishes.
10. Wood Planks
Incorporate warmth and natural beauty with a wood plank accent wall. From reclaimed barn wood to sleek, modern panels, this versatile material can suit various design styles and add a cozy, inviting feel to your bathroom.
11. Geometric Patterns
Create a bold statement with geometric patterns on your accent wall. From simple lines to intricate shapes, geometric designs can add a modern, dynamic touch to your bathroom.
12. Mirrored Wall
A mirrored bathroom accent wall is the perfect trick to make any bathroom feel more expansive. If you've got a small bathroom or limited natural light, a mirrored wall is a good way to counter any cramped and dark feeling. We suggest placing it opposite a window, or the door, or using it along a vanity to make the most of its effect on making a bathroom feel brighter and larger. 
13. Textured Paint
For those who aren't keen on using tiles, textured paint is a great alternative material to use for a bathroom accent wall. The best part is, it's very customizable. You can choose from bold patterns, subtle textures, colors, and application techniques to reach the depth, dimensions, and overall look you want. 
14. Stencils
Stencils offer an affordable and customizable way to create a one-of-a-kind accent wall. Choose from a variety of patterns and designs, or create your own for a truly personalized touch.
Conclusion
With these ideas in mind, you're well-equipped to create a bathroom accent wall that's both stylish and functional. Remember, the key is to choose a design that complements your bathroom's overall aesthetic and makes the space feel cohesive. Whether you opt for a subtle or bold look, a well-designed accent wall can significantly enhance the visual appeal of your bathroom. So, go ahead and unleash your creativity, and watch your bathroom transform into a stunning, personalized oasis. Happy remodeling!