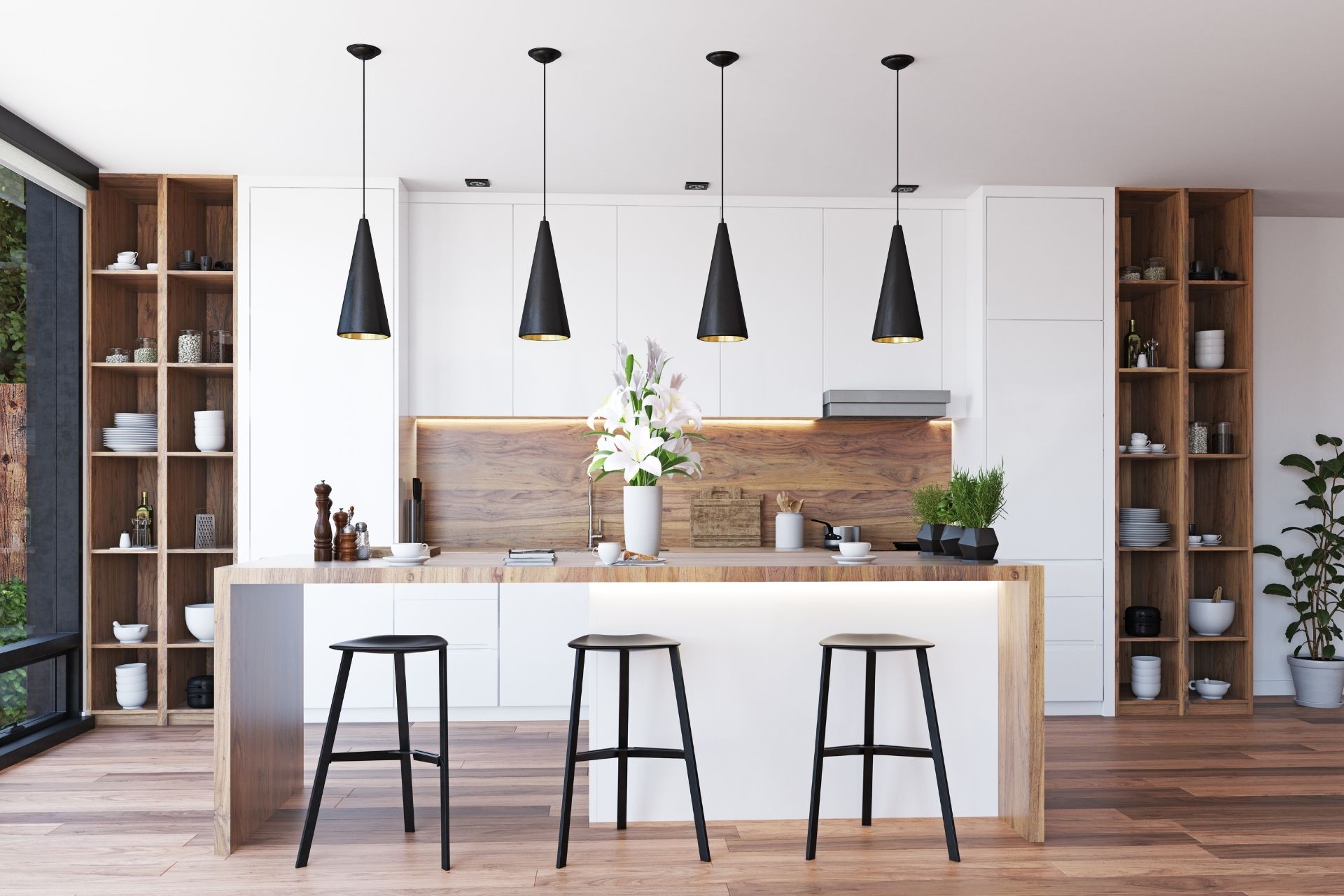 Why Modern Kitchen Design is Popular?
Why Modern Kitchen Design is Popular?
Every kitchen eventually needs an overhaul, but why should you pick a modern design when the time comes? Since some people believe "modern" means your kitchen will appear like something from a sci-fi movie, they choose a conventional kitchen decor over one that is stark and streamlined.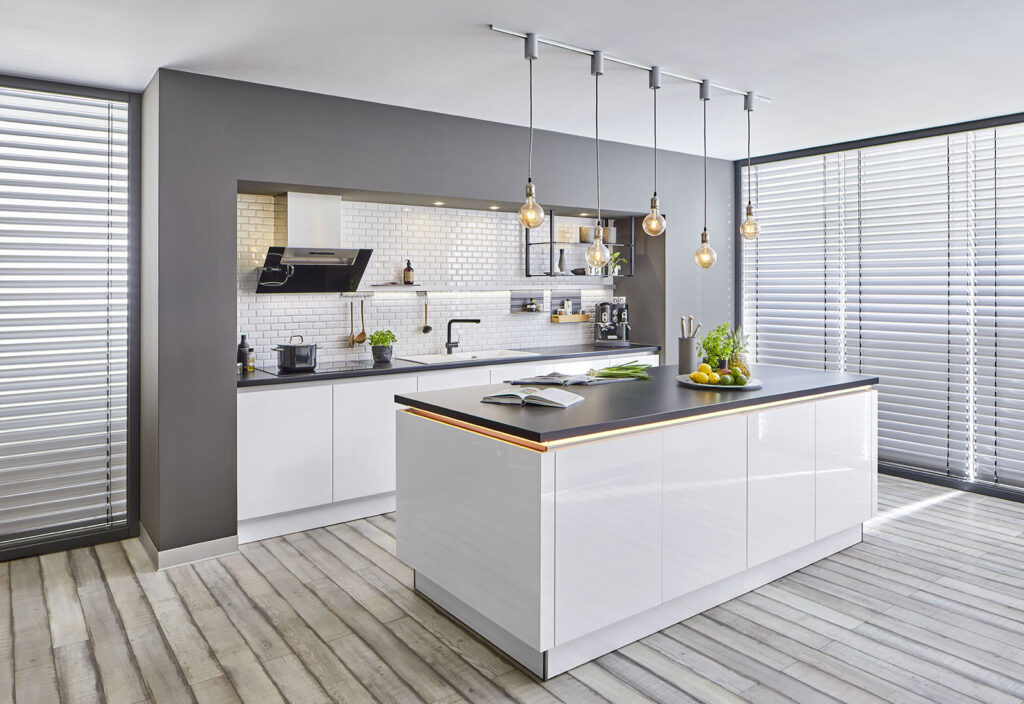 However, this isn't always the case. More than only minimalism and grayscale and white hues are used in contemporary design. We'll be examining several methods to get a modern aesthetic in this blog rather than tearing everything out and putting faceless new cabinets.
How then might an old kitchen be updated for today's standards? Everything you need to know about contemporary kitchen design has been compiled below by our team of kitchen renovation professionals.
What is modern kitchen design?
Modern kitchen design forgoes any frills to provide a simpler option whereas traditional style is recognized for carved woodwork and industrial fixtures. Modern kitchen designs, which date back to World War I, are characterized by flat surfaces and geometric shapes with a focus on good ergonomics and simple aesthetics.
Typical elements of contemporary kitchen design include:
Lines that are straight and smooth surfaces
Optimal storage space use Avoidance of visual impediments and clutter Emphasis on finishes and materials
Kitchen units are distributed evenly.
Minimal ornamentation and simple hardware
Monochromatic color palettes
Making the most of available space and natural light
Accessories and accent items
Bringing functionality and exquisite elegance together
Many people believe that traditional kitchens are more suited to historical homes, whilst modern kitchens are better suited to newer residences. This is not the case; while incorporating modern kitchens into older homes without breaking the continuity of their interior design might be challenging, it is not impossible. They will look nice in any property type if approached correctly.
What is the distinction between modern and contemporary kitchen design?
Though both names are frequently used interchangeably, they do not truly signify the same thing. You would believe that modern implies futuristic, but modern design is a historical trend from the mid-20th century, which is why it's also known as mid-century modern.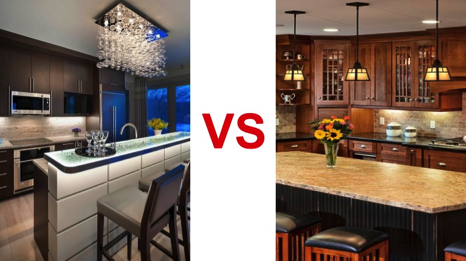 While the 1950s are considered antiquated now, the mid-century modern design style embraced the clean lines and pared-down simplicity that we currently consider fresh and stylish in the twenty-first century. Modern kitchens are clean, uncomplicated places with predominantly neutral décor.
Contemporary design, on the other hand, relates to what is now happening in the field of kitchen design. Rather than being a distinct movement with a distinct style, it shifts with changing fashion trends, relying on a range of influences from many eras.
There is considerable overlap between modern and contemporary design, which is why the distinctions are sometimes muddled. Since minimalist living has been trendy in recent years, modern design features can be seen in the majority of contemporary kitchens. However, modern design may incorporate characteristics of historic design movements as well, mixing many styles at the same time.
What are the benefits of modern kitchen design?
Of course, before you commit to a modern kitchen remodel, you may be asking what the benefits are. Here's an overview of why this kind of kitchen is so popular: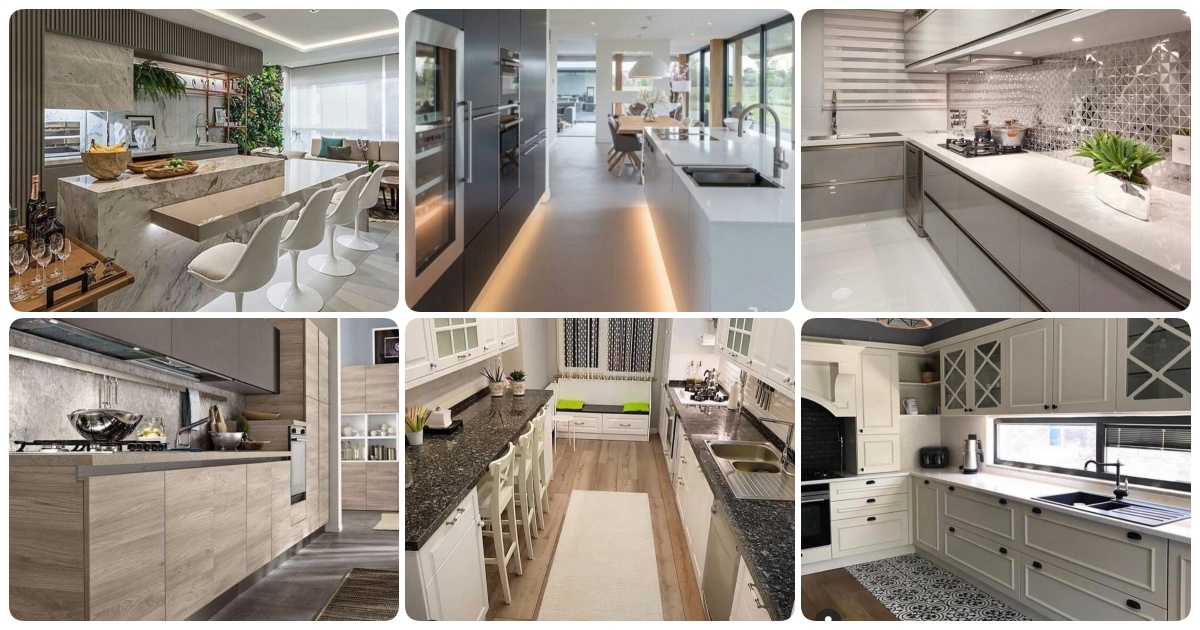 CUSTOMIZATION – When remodeling a contemporary kitchen, you may customize the plan and aesthetic to fit your lifestyle. Even on a shoestring budget, you may develop a unique design.
FUNCTIONALITY – Modern kitchens are significantly more practical for daily living than those of the past, using every inch of space to make duties simpler, from smart storage to integrated equipment.
TECHNOLOGY – Since the middle of the 20th century, kitchen appliances have improved significantly. Today, there are state-of-the-art appliances and fixtures with sophisticated digital capabilities built in.
EFFICIENCY – Every procedure in a contemporary kitchen is precisely calibrated to encourage cost-effective labor and reduce waste thanks to the functional design and advancing technology.
RESALE VALUE – A newly installed modern kitchen is sure to appeal to potential purchasers should you decide to sell your home in the future; not everyone is eager to invest in a fixer-upper!
Modern kitchens have a longevity that is difficult to find nowadays. Simply told, contemporary kitchens are spotless rooms that are unlikely to go out of style and that promise long-term value.
How do you design a contemporary kitchen?
A contemporary kitchen needs to be a practical area that's both practical and enjoyable to use. If the idea of cold, white stainless steel doesn't appeal to you, you don't have to stick with it. A beautiful kitchen should fulfill your specific demands while blending in with the design of your whole home.
When selecting a contemporary kitchen design for your house, keep in mind that everyone's demands are different and that you should prioritize your tastes. Having said that, there are a few guidelines you should go by if you want to design a functional and aesthetically beautiful kitchen. Here are 7 methods to do this.
1) Accent colors and neutral tones
Although it may appear dull at first, neutral colors are essential for contemporary kitchens. You should be starting with a clean slate, starting with the flooring and moving up to the paint color on the walls and the cabinet finish. Whether it's a backsplash, piece of furniture, or an appliance, this will make any accent elements stand out.
Though there are many other design options, the usual mental picture of a contemporary kitchen tends to be sparkling white units that extend as far as the eye can see. In a monochromatic kitchen, it's also common to juxtapose black and white pieces, or you may soften it with creams and greys.
Natural wood counters always contrast well with white cabinets, whereas a worktop with a pale marble or granite feel would truly pop against dark cabinets. The statement components you select should be tasteful, elegant, and not overly eye-catching.
If you believe that going this path is too safe and would rather do something risky, you may pick one strong color to mix with a soft one in a harmonious monochromatic pattern. The space shouldn't appear overly cluttered as long as the color scheme and color distribution are maintained throughout.
Even if you adhere to a mostly neutral color palette for your kitchen, you may add dashes of vibrant color with your appliances, furniture, and accessories.
2) Hidden storage solutions
You must maximize your storage if you want to keep the clean lines of a modern kitchen. Every shelf and drawer should already be utilized well with inserts to maintain organization. Your equipment should be out of sight and not occupy every flat surface, save from any required utilities.
This contributes to the spaciousness of the space and the tranquil feeling it fosters. You have to attempt to choose storage options that are inventive in addition to your conventional kitchen cabinets. Pull-out storage mechanisms are a standout element of modern kitchens with a forward-thinking design.
These let you store kitchen supplies while still having easy access to them, whether it's china on a corner carousel, pots and pans on a swing-out shelf, or spices in a slide-out pantry.
Open shelving is another choice, even though it could appear incompatible with the concept of a spotless modern kitchen. Choose your favorite items and creatively arrange them to create a curated display rather than hiding them away where you can forget about them.
The list includes cookbooks, mugs, ornamental china or earthenware, pasta or coffee jars in glass, vases, and planters. On pegboards, racks, or rails, you may utilize vertical space by hanging objects on S-hooks.
In this manner, your utensils and/or pots and pans will be on display and conveniently next to the stovetop, freeing up some room in your drawers and cabinets for other appliances. Instead of a knife block on the counter, another choice is a magnetic knife rack on the wall.
Request a Design Consultation: CONTACTS