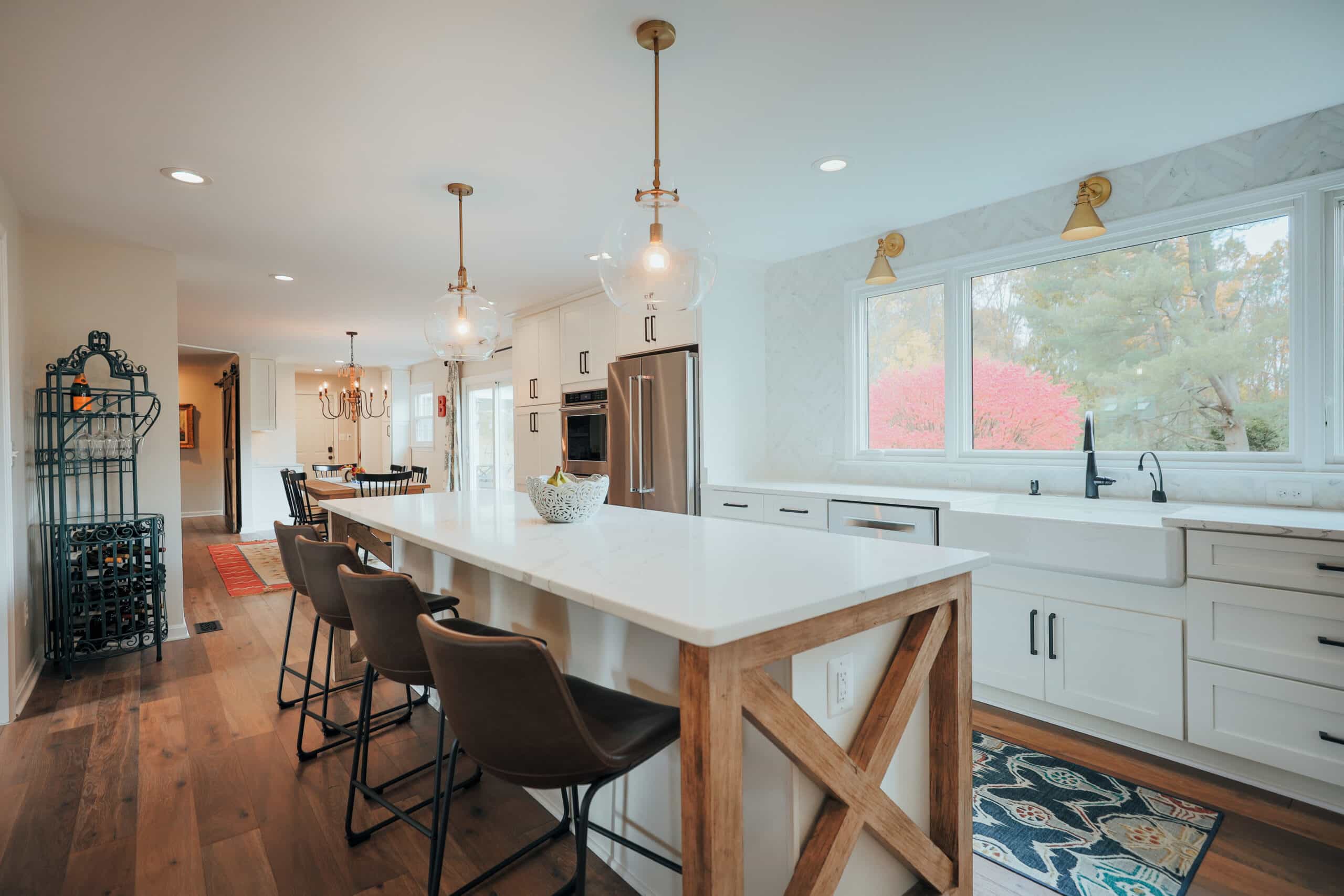 Kitchen Flooring Cost 2023: Top Tips for Your Remodeling Project
Kitchen flooring cost, on average, anywhere from $3 to $22 per square foot, depending on the material. Whether you're swooning over the classic charm of hardwood or vibing with the chic, easy-clean allure of tiles, I've got the skinny on the price tags. From the nitty-gritty of tiling costs, which can run you about $5 to $15 per square foot, to the swankier epoxy floors that might edge up to $7 to $12 per square foot, I'm here to dish out the real deal. Buckle up, because I'm about to take you on a cost-conscious cruise through your kitchen's next transformation.
Cost to Tile Kitchen Floor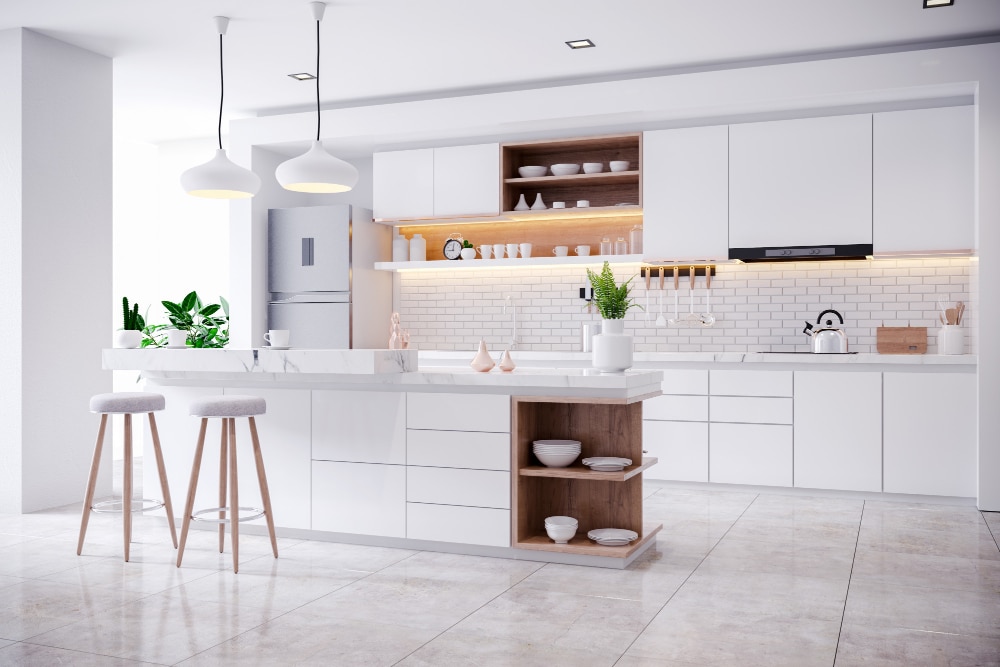 Tiles remain a favored option for their resilience and variety. Here's a breakdown of tile kitchen flooring cost:
Ceramic Tiles: They're cost-effective, with prices as low as $0.50 to $7 per square foot. Ideal for those seeking durability on a budget.
Porcelain Tiles: A heftier investment at $3 to $10 per square foot, porcelain offers a luxe finish and superior durability.
Luxury Tiles: For high-end tastes, designer tiles can soar to $30 per square foot.
Remember, the labor for tiling can double the material cost, so budget for both.
Hardwood Kitchen Flooring Cost

The Price of Elegance
Hardwood brings an unrivaled elegance that can make your kitchen feel like a page from a designer home magazine. But elegance comes at a price. On average, you might be investing anywhere from $6 to $12 per square foot for materials alone. And let's not forget installation, which can add $3 to $8 per square foot depending on the complexity and the hardwood species you choose.
The Menu of Options
Hardwood comes in a variety of species, each with its own unique flavor.
Oak: Robust and traditional, it brings a classic vibe to the table.
Maple: With a subtle grain, it's for those who like their kitchen sleek and their floors low-maintenance.
Cherry: Want to add some luxury? Cherry's rich tones are like a fine wine for your floors.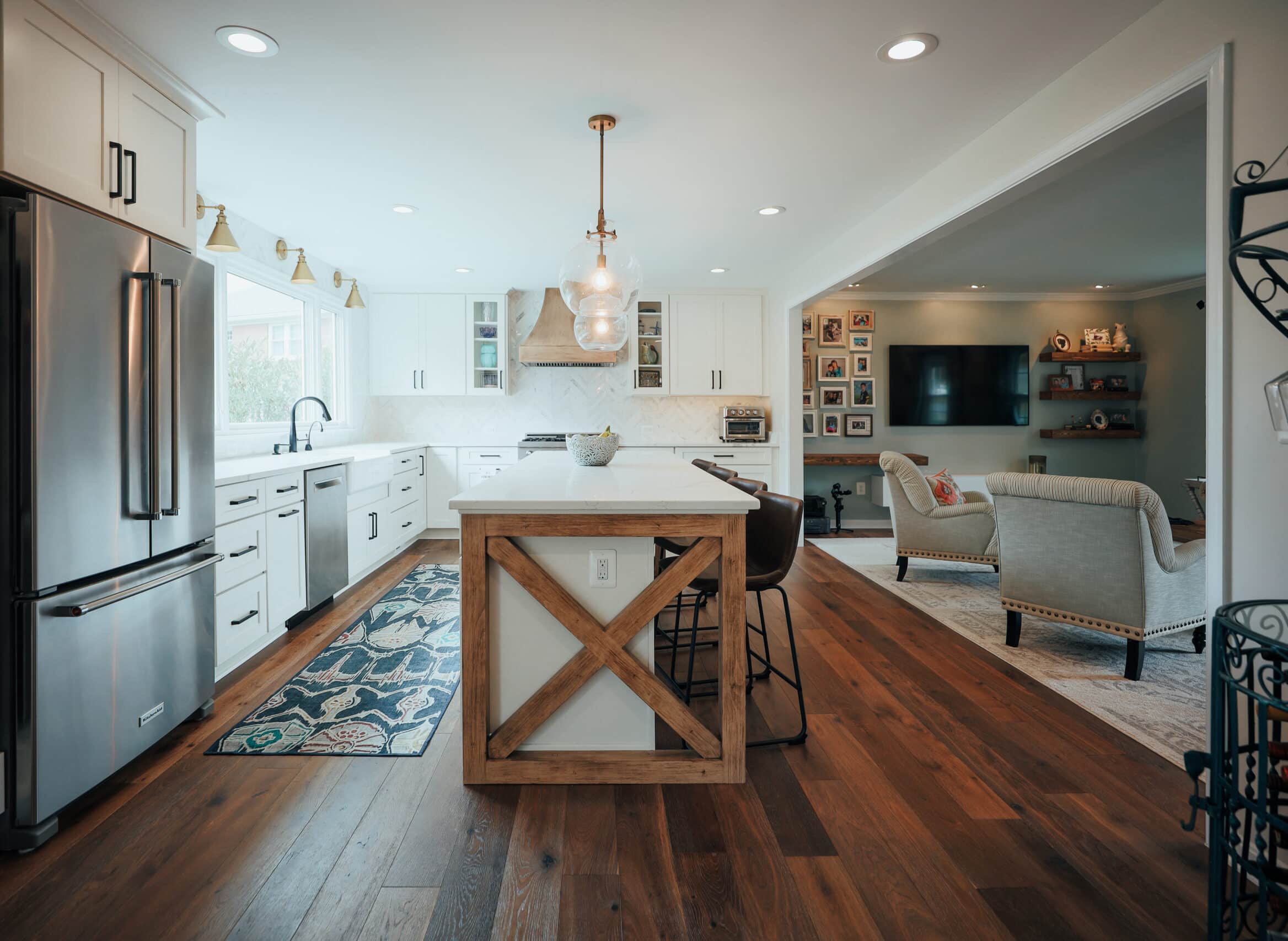 The Long-Term Value
Yes, hardwood might require a little more upfront, but it's a long-term investment. With proper care, these floors can last a lifetime. And if they start showing their age, you can refinish them for a fraction of the cost of replacement, giving your kitchen a brand-new look down the road.
Consider the Climate
Keep in mind that wood and moisture are not the best of pals. If your kitchen tends to be a splash zone, you'll want to make sure you choose a finish that can stand up to the humidity and occasional spills.
Epoxy Kitchen Flooring Cost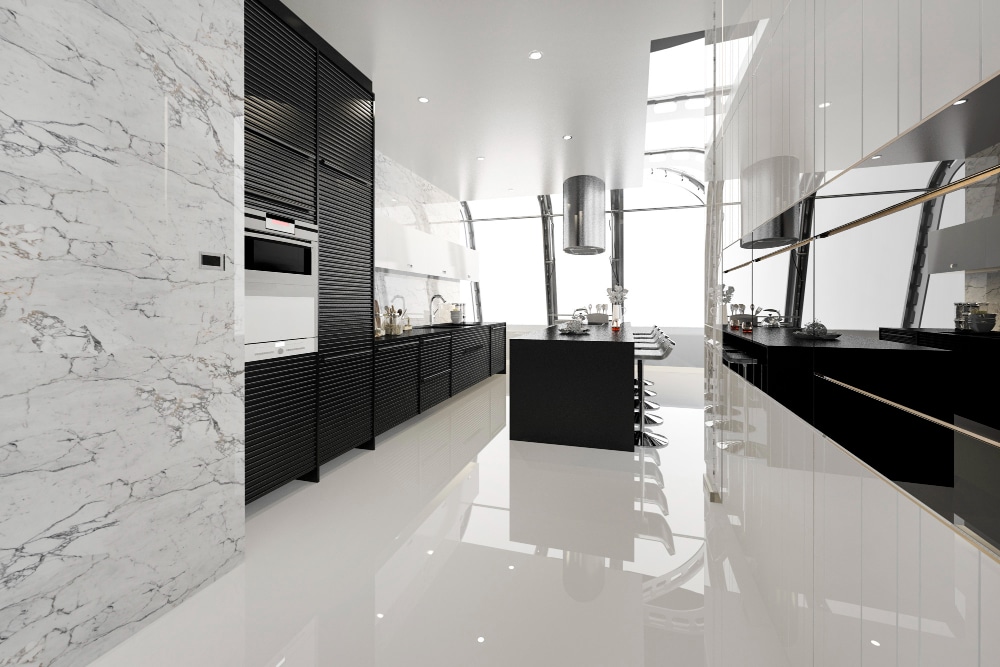 Epoxy kitchen flooring cost, with its seamless and modern look, ranges from $3 to $12 per square foot, including materials and labor. It's a worthwhile investment for a hard-wearing and unique finish.
Epoxy kitchen flooring is like the superhero of the flooring world—it's durable, long-lasting, and can take just about anything daily life throws its way. Here's the lowdown:
Epoxy is a synthetic resin known for its resilience and versatility. When it comes to kitchen flooring, epoxy is applied as a liquid, which then hardens into a solid, creating a seamless and incredibly tough surface. Think of it as a protective shield for your floor that's also got some serious style points.
Why Epoxy?
Here's why it's got homeowners and designers alike buzzing:
Durability: This stuff is tough. It resists wear and tear, making it ideal for high-traffic areas like kitchens.
Moisture Resistance: Spills? No sweat. Epoxy doesn't let water through, which helps prevent stains and damage.
Low Maintenance: Cleanup is a breeze. A mop and some mild cleaner are all you need to keep it looking fresh.
Aesthetics: Clear or colored, matte or glossy, epoxy can be customized to your taste. It can even mimic other materials like marble or granite.
Safety: Slip-resistant additives can make epoxy floors safer, which is always a plus in a kitchen.
Kitchen Flooring Replacement Cost
The cost of replacing a kitchen floor can be as diverse as the flooring options themselves. On average, you could be looking at:
Vinyl: $2 to $5 per square foot for materials, plus labor.
Laminate: Around $5 to $8 per square foot, inclusive of labor.
Hardwood: $8 to $15 per square foot, with labor additional.
Factors Affecting Kitchen Flooring Cost
Understanding the variables that play into the cost of kitchen flooring lays the groundwork for a budget-friendly remodel. Here's what to consider:
Material Choices
The spectrum of flooring materials is broad, with options like laminate, hardwood, and luxury vinyl varying significantly in price.
Kitchen Size
Simply put, larger kitchens require more materials and labor, increasing the overall kitchen flooring cost.
Labor Costs
Installation charges can fluctuate based on the complexity of the job and the contractor's expertise.
Geographic Location
Prices for materials and labor can differ based on where you live.
Underlayment and Subfloor Requirements
A good foundation may incur additional costs, but it is essential for longevity.
Removal of Old Flooring
If you're replacing flooring, the cost to remove existing materials must be factored in.
Conclusion
In the grand scheme of kitchen remodeling, being well-informed about kitchen flooring cost is a must. With this comprehensive guide, you're now poised to make choices that align with your personal taste and financial plan. As you weigh options, consider not just the initial outlay but also the long-term value. Happy remodeling!
Kitchen Flooring Cost FAQs
Q1: What factors most influence kitchen flooring cost?
The cost is mainly affected by material choice, kitchen size, labor costs, and installation complexity.
Q2: Is tiling my kitchen floor a cost-effective option?
Yes, tiles offer a balance of durability and price, with options for every budget.
Q3: How can I save on my kitchen floor replacement cost?
Consider cost-saving measures like choosing affordable materials and DIY where possible.