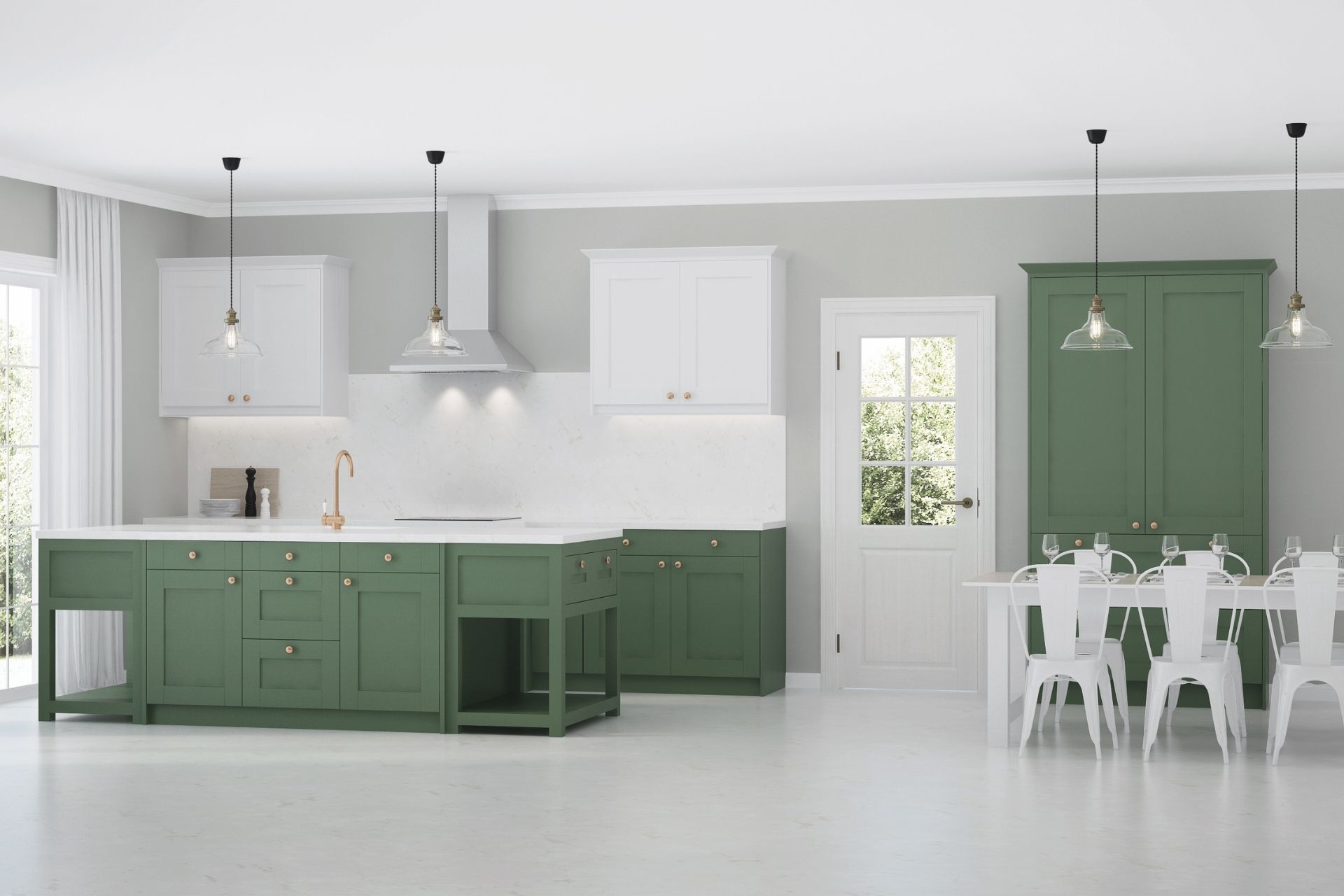 Kitchen Cabinet Colors
If you like the look of a seashell, then blue cabinets are for you. These colors are reminiscent of the ocean and are easy to keep clean. However, if you're someone who cooks a lot, you may want to consider dark cabinets. Alternatively, light gray cabinets are a timeless choice.
Dark cabinets work well for those who cook a lot
Dark cabinets are a good choice for kitchens, as they can help hide scratches, dings, and stains. They also give a kitchen a cozy and welcoming feel. Dark cabinets can be used to match other color schemes or to create a distinct look.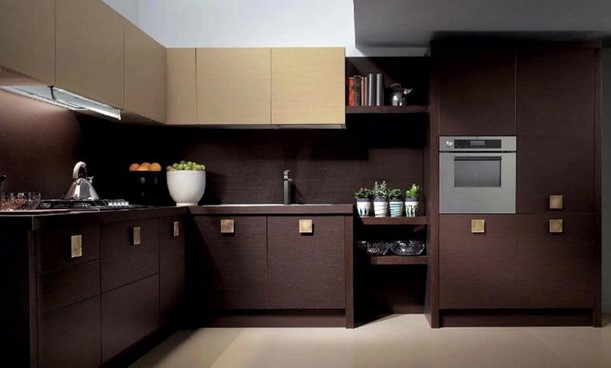 However, dark cabinets aren't a good choice for every home, as they can make a room seem gloomy and depressing. While black and white are a classic combination, dark cabinets can also look good with lighter shades. However, dark shades may make a room appear smaller, so you'll need to balance them with lots of natural light.
If you have a large kitchen, it's a good idea to choose a dark cabinet color instead of a light one. Light-colored cabinets may seem too institutional in such a large room. A dark color can warm up a room while providing the flexibility to add more decor and accessories. It also allows you to coordinate different colors, including contrasting flooring and artwork. Dark wood cabinets work well with a variety of colors, including black, brown, and grey.
Blue cabinets remind us of the sea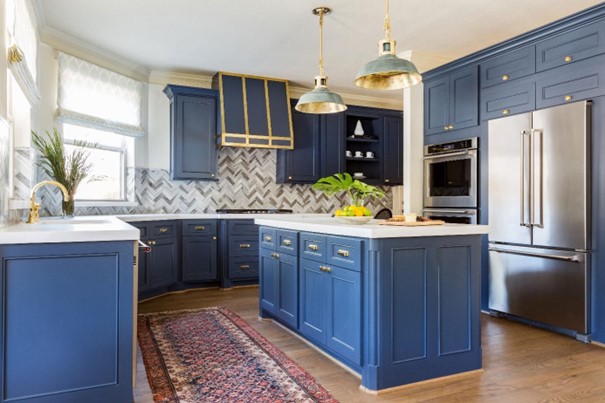 Navy blue is one of the most relaxing colors to work with in a kitchen. This hue has a high-end look without feeling overdone. Whether your kitchen is small or large, navy kitchen cabinets can bring a relaxed vibe to your space. The color also makes an elegant statement that lasts for decades.
Blue kitchen cabinet colors can be bold or soft, depending on your personal taste. Some blue paints have a purple or teal tone depending on the light, so you should always test the color first. This way, you can make sure the color looks good on your kitchen cabinets. You can also mix and match blue paints.
If you are looking for a darker shade of blue, Benjamin Moore Smoke Gray (797) may be the right choice for you. This shade is a rich blue with a hint of charcoal. While this shade is similar to Benjamin Moore's Athens Blue, it has a much deeper blue tone. It pairs well with whites of warm and bright tones, and has a nautical feel.
Gray cabinets are timeless
If you're looking to make your kitchen look stylish and contemporary, you may want to consider using gray kitchen cabinets. These cabinets combine modern design with sharp edges. Additionally, they look good with white and silver-toned appliances. The gray hue is also a great choice for kitchens with a contemporary look, as it compliments both colors.
If you'd like your kitchen cabinets to stand out, try incorporating accent lighting. Accent lighting is the best way to highlight specific features in your kitchen, and it adds personality and character. For example, accent lighting will highlight the polished chrome handles on your cabinets. It's an easy way to bring more light into your kitchen, while keeping the overall look neutral.
Another option is to install glass cabinets. These cabinets look good in any color scheme and can be a timeless choice. Glass cabinets let you see the contents of the cabinet, but you need to know that it may be difficult to keep the cabinet organized and neat if it's cluttered with items. However, if you want to showcase your favorite glassware or other special dishes, then glass cabinets might be the perfect option for you.
Another benefit of gray cabinets is that they match various types of countertops. Marble, solid surface, woodblock, and laminate countertops all look beautiful against gray cabinetry. Additionally, grey cabinets are a perfect complement for statement accessories. They never go out of style and are timeless in any kitchen. They can fit in with any design theme, from contemporary to vintage.
In choosing the right gray kitchen cabinets, consider your style and the overall design of your kitchen. Keep in mind that a grey kitchen can increase the value of your home. But be careful, this neutral color can also be boring if you don't do it right.
Light gray cabinets are easy to keep clean
Light gray cabinets are a great choice for kitchens. The color is very versatile and goes with a wide range of design schemes. It can work well with modern, contemporary, or traditional kitchen styles. Light grey also works well with light wood and accent colors such as gold or copper. If you don't like the look of light grey cabinets, you can use accent colors like sunshine yellow to make your kitchen more fun and energetic.
Another benefit of light gray cabinets is that they are easy to keep clean. They match well with light-colored appliances and white walls. You can mix and match them with other gray elements in your kitchen to create a unique look. You can even paint the cabinets gray to give them a unique look.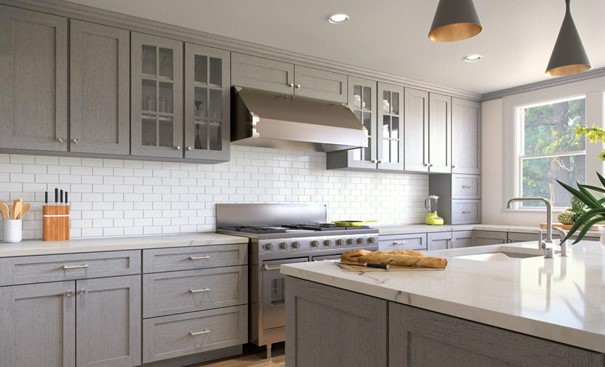 A light gray cabinet will blend into a room without showing any blemishes. It is also easy to keep clean, and unlike white cabinets, it doesn't show dirt as easily. As a bonus, light gray kitchen cabinets don't show stains or smudges as easily.
Gray is a popular color choice for kitchens because it's so versatile. It works well in most homes and provides a clean, timeless appearance. It can also complement any other color scheme in the room. A gray kitchen will give the room a sleek, contemporary feel. There are many color combinations you can try with gray, and the choice is up to you!
Sage green is a trending color
Sage green is a cool, contemporary shade of green that is perfect for kitchen cabinets. It looks great with a white countertop and brass hardware. Its gray-blue undertones make it a perfect choice for a neutral kitchen. The color is also great with soapstone countertops and unlacquered brass hardware.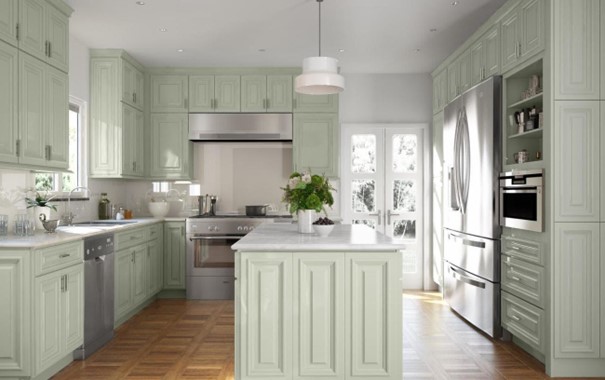 Sage green is a calming shade of green with gray undertones. It is neutral and relaxing, yet still striking enough to set the mood in any room. Build Design Center offers several shades of this nature-inspired color, from light to dark. If you are considering a change in color for your kitchen, sage green is a great option.
Sage green is a popular color for kitchen cabinets because it lends itself to a variety of kitchen design styles. Its dark gray undertones make it a sophisticated color that can be used in both a modern and a traditional kitchen. It also goes well with white or wood-grain kitchen islands.
Although frosty greens have been around for awhile, a recent study found that sage greens are now a popular trending color. This color pairs well with white and other neutrals, and can create a soothing environment for the home. Sage green can be used on both base and upper cabinets, or as an accent against a neutral background. It can also be fun when used on an island or adjacent built-in bar.