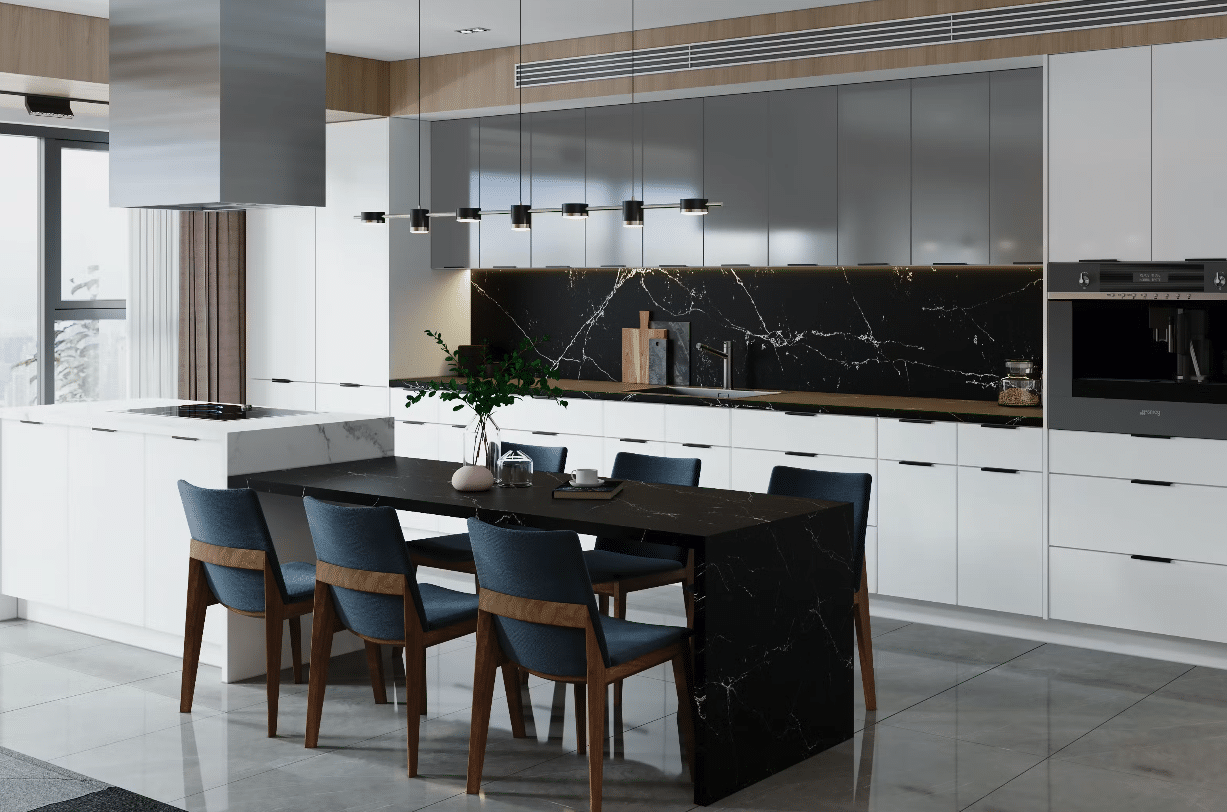 Black Kitchen Table: A Bold Touch to Kitchen Remodeling
Every choice makes a big difference when remodeling or styling a home. In my design experience, one element consistently captures attention in kitchens: the black kitchen table. Imagine selecting the most daring shade from a set of colors. It's audacious, on-trend, and accentuates your kitchen space.
Why Choose a Black Kitchen Table?
Aesthetic: Black tables embody elegance and agelessness. They silently grab attention. 

Adaptable: Be it a contemporary or classic ambiance, a black table seamlessly integrates. 

Decor Ease: Every hue shines against black. Imagine crimson flowers or golden ornaments; they become the focal point!
Blending Black into Your Kitchen's Vibe
When you're diving into a kitchen remodel, the color palette is king. Your color choices reign supreme. Envision an untouched canvas, eager for your artistic stroke. A sophisticated black table declares its presence. Now, let's dress it up a bit.

Sprucing Up Your Black Table:
Chairs: Why not jazz it up with some vibrant chairs? Or, if you're into a more subdued look, grays and whites are your jam.

Dishes: White dishes on black? Timeless. Throwing in some silver or gold? That's a touch of glam right there.

Decor: Ever thought how a golden vase or some vivacious flowers would pop on a black backdrop? Trust me, they do wonders.
Benefits of Kitchen Styling
Black isn't just a color. In design, it's a game-changer. Here's why:
Trendy: Black tables are in fashion. Your kitchen will always look modern.

Hide Stains: Little spills? No worries! Black is forgiving.

Easy Match: Black goes with everything. It's like a kitchen's best friend.

A Word on Remodeling with Black
When you dream of giving your kitchen a cool remodel, keep the black kitchen table in mind. Do not be afraid to use black in your remodeling! And here's a tip: contemplate integrating black fixtures or tiles. Embrace black in your revamp process! Deciding on a table is momentous, but zeroing in on a black kitchen table equates to selecting the most chic attire for your kitchen. Always in vogue and just the perfect fit. Contact us to start your kitchen remodeling!

FAQs about Black Kitchen Table
Why is a black table a good choice for my kitchen?
Black tables are stylish, easy to decorate around and hide stains well. A win-win!
Can I pair a black table with other colors in my kitchen?
Absolutely! Black is versatile. It goes well with almost any color you choose.
Is a black kitchen table high maintenance?
No! Black tables are easy to clean and maintain. Plus, they hide little marks and spills.